NEW! 1-Click Erasing! Only simply one click, Web History Eraser can Erase all traces of your Web activity! Just Choose what you want to erase, click the Erase Now ,Web History Eraser will erase all the tracks for you automatically!
Unique Web Eraser software, unbelievable low price!
Web Eraser --Did You Know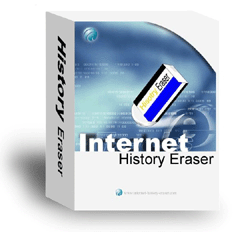 ......


Perhaps you stumbled onto one or two adult Web sites. Perhaps by accident. Perhaps on purpose. And you don't want your husband/wife, dad/mom, boss/colleague or anyone else to know you've been there.

Your computer is tracking all your actions and stores the evidence into your hard disk. Anyone else can see where you have been on Web and the images, movies you have seen, even everything you did on your computer would leave traces on your computer.
See more...





So, how to Protect your Privacy, keep your Surfing private

Try It Now Order Now

Web History Eraser is a Web Eraser software to protect you!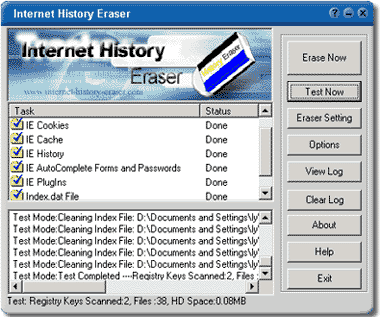 With the free plugins for Web History Eraser, It can also erase up to 100 popular applications, it can
Erase Realplayer playlist history

Erase RealOne playlist history

Erase Media Player playlist history

Erase Divx Player playlist history

Erase QuickTime playlist history

Erase Microsoft Office recent files list

Erase Winzip recent extract files list

Erase Acrobat recent files list

Erase over 50 other popular applications history list (see the list)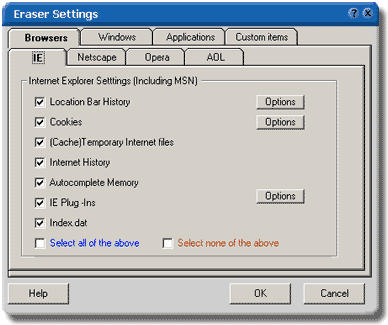 Web Eraser-Web History Eraser can do the following for you:
Erase IE, Netscape, AOL, Opera's location bar history list

Erase IE, Netscape, AOL, Opera's Cookies

Erase Web cache (temporary Web files)

Erase Web history files

Erase Web search history

Erase autocomplete history

Erase IE plugins (selectable)

Clean index.dat file

Erase start menu run history

Erase start menu search history

Erase windows temp files

Erase open/save dialog box history

Empty recycle bin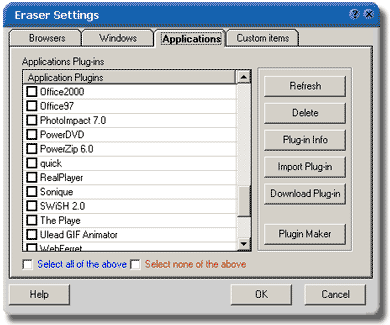 Web Eraser-Web History Eraser's other great features includes:
Secure Erasing overwrites the files a specified times with blank character, gives you the confidence that once erased by Web History Eraser, the files will be gone and no one can recover/undelete them.


Custom Erase Item you can choose to erase your own files and registry


Homepage Protection prevent the websites from modifying your homepage


Clean Free Space Clean the free space of hard disk by overwriting every bytes of the free space with blank characters. this makes the deleted files unrecoverable. more info see here


Boss Key you can hide the opened browser's windows when other come in


Free up valuable hard-drive space it can free up a lot of disk space used by the cache and temp files


Schedule Erase you can start an erase on windows startup/shutdown, or browser's shutdown, and even a specified interval you chose.


Stealth Mode It can run in the background silently, no one except you know it's working and protecting your privacy


Windows 95/98/ME/NT/2000/XP compatible
IE/Netscape/AOL/Opera/MSN compatible

Pearls of Praise:
WOW!
I was looking for a good Web Eraser program and found this one to be excellent. It cleans out all the windows and media player files and even cleans out various other programs when plug-ins are enabled. Works great to clean out XP and does it quickly!
Jeff
Good job!!
I found Internet Eraser to be loaded with features. From my perspective, you covered ALL the bases. I also liked the user interface. I found the program extremely easy-to-use. I've looked at a number of similiar products and yours is right up there with the best. Good job!!

Michael


Try It Now Order Now

Recent Awards

[ Home ] [ Download Now ] [ Order Now ] [ FAQ ] [ Plugins ] [ Contact Us ]