How to Add Custom Item ?

Custom Item allows you to erase file(s), folder or registry entry(s) that you want to erase. If you have files, folders or registry entry(s) need to be erased periodically , it is a good way to add a Custom Item to erase them. With the Securely Erasing enable, you can erase the files completely, others can not recover or undelete them.
To add a Custom Item, click the Eraser Setting->Custom Items->Add, there are 2 typies of Custom Item: Registry Item and File & Folder Item.

1) Add Registry Item Click Add Registry Item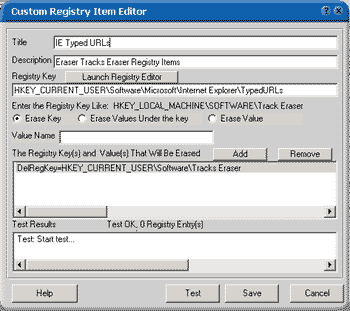 Title The name of the Custom Item,( e.g. Myitem)
Description Description of this Custom Item
Registry Key The Registry Items that will be erased
Launch Registry Editor Use the system's Registry Editor to select the registry key to be erased, once you use the Registry Editor's Copy Key Name to copy the key or just press Ctrl+C to copy the key name, the key will automatically appear on the Registry Key text box.
Erase Key Erase the key you selected above
Erase Value Under the key Erase the Value under the selected key , Below is an example (Winzip Recent Files)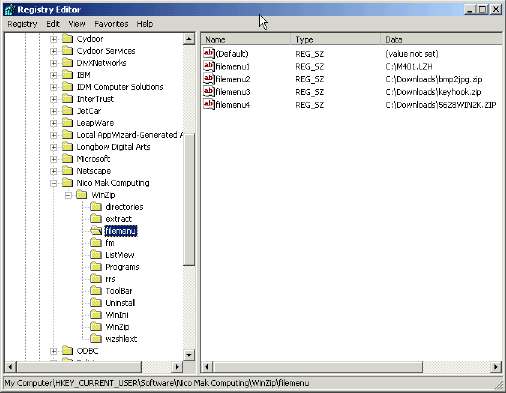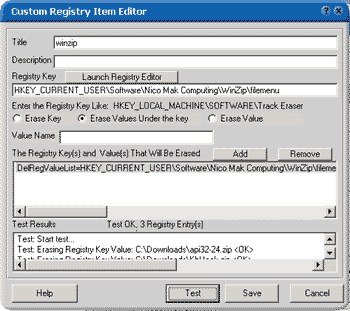 Erase Value Erase the key value you fill in the ValueName text box under the selected key
2)Add File And Folder Item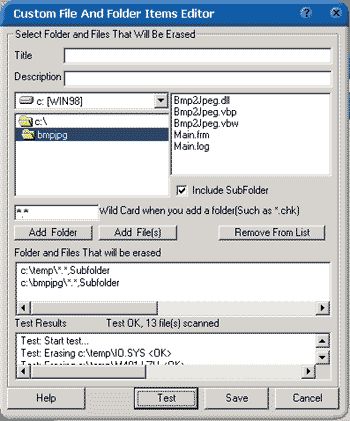 Title The name of the Custom Item, (e.g. Mytest)
Description Description of this Custom Item (e.g. erase my registry items)
Add Folder Add the folder to the list that will be erased,
Include SubFolder Check this will include the subfolder under the selected folder
Add Files Add file(s) to the list that will be erased, you can erase the files using wild card, default is "*.*". (for example, you want to erase mp3 files under c:\temp folder, just fill in the wild card text box with "*.mp3"
Remove From List Remove the selected item
Test Results Show the test results
Test click this will test the items selected
Save Save the item
[ Home ] [ Download Now ] [ Order Now ] [ FAQ ] [ Plugins ] [ Contact Us ] [ links ]